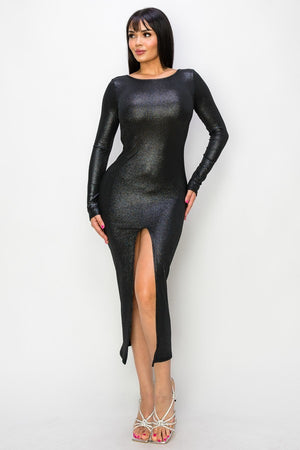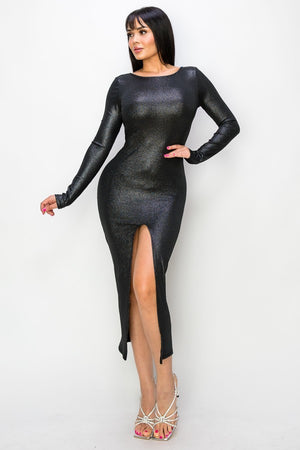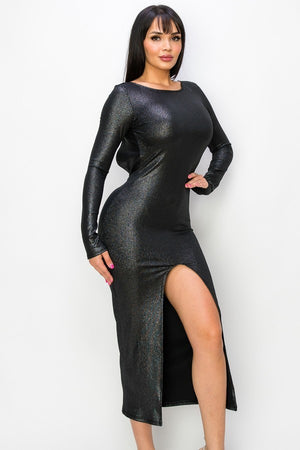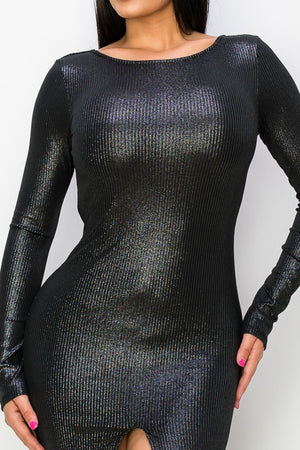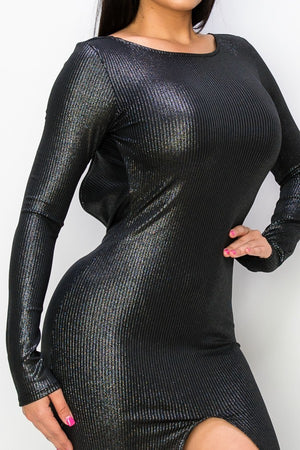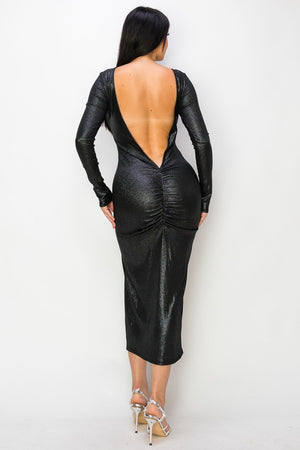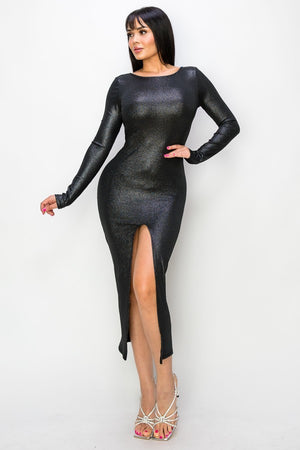 Ribbed Knit Metallic Backless Midi Dress
Description:
Introducing our Long Sleeve Metallic Midi Dress—an exquisite blend of sophistication and allure. Elevate your wardrobe with this show-stopping dress, meticulously crafted to enhance your elegance and make a bold fashion statement.
Key Features:
1. Fabric: Immerse yourself in the luxurious blend of 96% polyester and 4% spandex, offering a high stretch for a comfortable and figure-flattering fit.
2. Style: Embrace the modern charm of this round neck midi dress, featuring a metallic knit ribbed fabric that adds a touch of glamour to your look.
3. Design: The backless silhouette exudes sensuality, while the slit open in the middle adds an extra layer of elegance to this sexy midi dress.
4. Sleeve: Enjoy the coverage and style of long sleeves, perfect for transitioning from day to night with grace.
5. Color: Embrace the timeless allure of black, a classic choice that exudes sophistication.
6. Versatile Styling: This dress is designed to make a statement on various occasions. Whether it's a night out or a special event, you'll captivate the room with your elegance.
Product Details:
• High Stretch Comfort: The polyester-spandex blend ensures a comfortable and flexible wear, allowing you to move with ease.
• Not See Through: Rest assured, this dress provides full coverage without being see-through.
• True to Size Fit: Our Long Sleeve Metallic Midi Dress fits true to size, offering a flattering silhouette that enhances your natural beauty.
Why Choose the Long Sleeve Metallic Midi Dress?
This dress is a true embodiment of glamour and sophistication. The metallic knit ribbed fabric, combined with the backless design and slit open in the middle, sets it apart as a unique and elegant choice for those who want to make a lasting impression.
Ideal Occasions:
Perfect for evenings out, cocktail parties, or any event where you want to exude confidence and style. This dress is designed to turn heads and leave a lasting impression.
Customer Reviews:
"The metallic detail on this dress is stunning! I felt so glamorous and received so many compliments. Definitely a must-have!"
- Sophia L.
Size Guide:
Consult our size chart to find the perfect fit and ensure you showcase your elegance in the Long Sleeve Metallic Midi Dress.
Shipping and Returns:
• Fast Shipping: Enjoy speedy delivery to your doorstep.
• Hassle-Free Returns: If you're not completely satisfied, our flexible return policy ensures your peace of mind.
Don't miss the chance to own this captivating Long Sleeve Metallic Midi Dress. Add it to your cart now and embrace the perfect fusion of glamour and comfort!
Ribbed Knit Metallic Backless Midi Dress