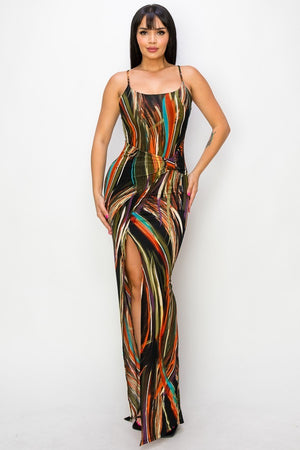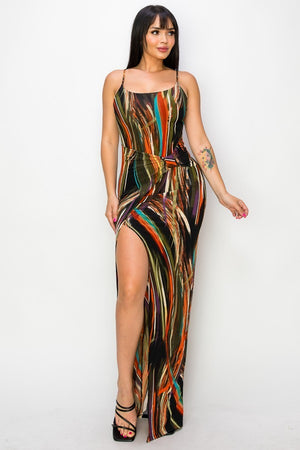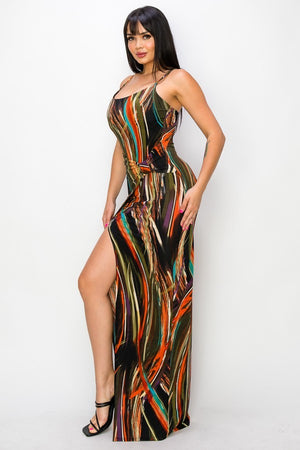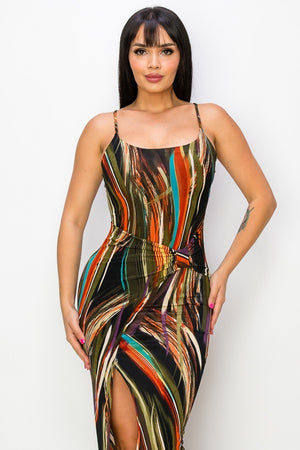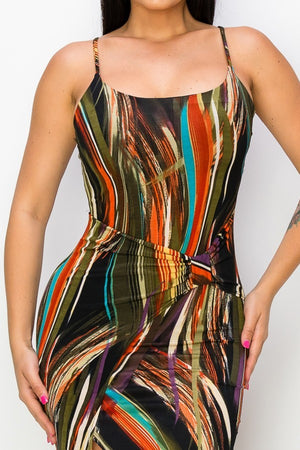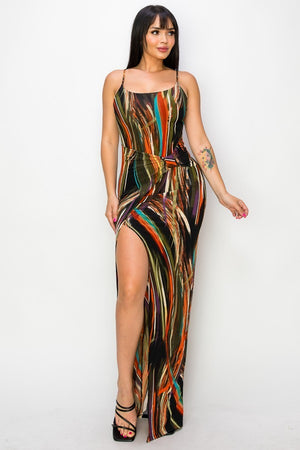 Split Thigh Multicolor Long Dress
Description:
Introducing our Spaghetti Strap Sexy Long Dress—an enchanting piece that effortlessly combines glamour with comfort. Elevate your style with this captivating dress, carefully crafted to enhance your confidence and make a lasting impression.
Key Features:
1. Fabric: Immerse yourself in the luxurious blend of 96% polyester and 4% spandex, offering a high stretch for a comfortable and figure-flattering fit.
2. Fit: Embrace the allure of the slim fit, complemented by a captivating split thigh leg and an adjustable tie on the waist for a personalized touch.
3. Color Options: Indulge in the striking multicolor print, featuring a harmonious blend of Multi, Brown, and Green hues.
4. Sizes: Available in S, M, and L, our Spaghetti Strap Sexy Long Dress fits true to size, catering to a range of body types.
5. Design: Revel in the spaghetti strap design that adds a touch of sensuality, making it perfect for special occasions. The adjustable tie on the waist allows you to customize the fit according to your style.
6. Versatile Styling: Transition effortlessly from day to night with this versatile dress. Pair it with heels for a glamorous evening look or with sandals for a chic daytime ensemble.
Product Details:
• High Stretch Comfort: The polyester-spandex blend ensures a comfortable and flexible wear, allowing you to dance the night away with ease.
• Not See Through: Enjoy the confidence of knowing that this dress provides full coverage without being see-through.
• True to Size Fit: Our Spaghetti Strap Sexy Long Dress fits true to size, offering a flattering silhouette that accentuates your natural beauty.
Why Choose the Spaghetti Strap Sexy Long Dress?
This dress is a statement piece, embodying the perfect blend of style and comfort. The captivating multicolor print and thoughtful design elements make it a standout choice for those who want to make a bold fashion statement.
Ideal Occasions:
Perfect for a variety of occasions, from romantic dinners to evening events, this dress is designed to turn heads and leave a lasting impression.
Customer Reviews:
"I felt like a goddess in this dress! The fit is amazing, and the colors are even more vibrant in person. Highly recommended!"
- Olivia D.
Size Guide:
Consult our size chart to find the perfect fit and ensure you showcase your confidence in the Spaghetti Strap Sexy Long Dress.
Shipping and Returns:
• Fast Shipping: Enjoy speedy delivery to your doorstep.
• Hassle-Free Returns: If you're not completely satisfied, our flexible return policy ensures your peace of mind.
Don't miss out on the chance to own this captivating Spaghetti Strap Sexy Long Dress. Add it to your cart now and experience the perfect fusion of fashion and comfort!
Split Thigh Multicolor Long Dress